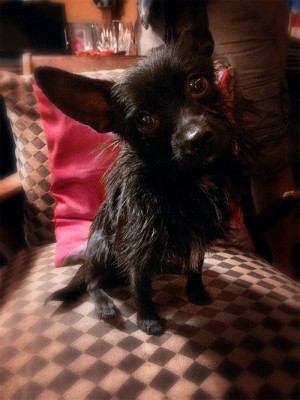 Deep doo doo. That's what I'm in. Adopting another beloved pet was adamantly not part of my plan. After Izzy's death, following my dream of travel was my only plan. But you know what they say about plans. God laughs when we make them.
When Izzy was diagnosed with a fatal heart condition, I wrote an essay called "Loving Wide Open at the End of an Era (read it here: https://angisullins.wordpress.com/about/). It describes my decision to live without pets once Izzy passed, as a commitment to following my mad passionate dream of world travel. I always wanted to backpack across Europe, and to see the wonders of the world. There was never any money. My girlfriends in high school and college took semester trips to Italy, to France, Ireland and various places around the US. I stayed at home waiting tables and tutoring algebra, (and being a terrible no good receptionist at a pesticide company) plotting that one day I'd take myself journeying, when I could afford it.
Fast forward 25 years. I've devoted much of my life to building an art enterprise, traveling in bits and pieces, stealing precious moments whenever possible. There were dogs to watch, a business to grow, a house to tend, a husband to devour, plants to feed, so those stolen moments were days here, weeks there, while my soul ached to go. And to stay gone. To wander until my journeying feet ached for home.
Sitting with Izzy, knowing her days were numbered, was terrible beauty. I prayed for time, much more time, to love and play and adventure with her. But I also dreamed of packing up and globe trotting, starting a new chapter of my life. And then I'd look at her face and pray that day never came. It filled me with hope and grief and a terrible guilt that one day I'd be free to follow my dream. Without her. There was agony. There was ecstasy.
Izzy passed and there was no thought of travel, except the hope of traversing the distance now between the two of us. But as the days passed, I knew the way to feel her close, to keep her with me always, was to follow my dream. I knew she'd be happy for me, that she passed to make a doorway to my dream coming true. Walking through that doorway and into the world of wandering would elevate her passing into my own rite of passage. This was, and is, meaningful for me: that her death be the ending of an era but more important, a gateway to a new one, the birth of new possibilities.
I never adopted another baby while Izzy was alive because I wanted her to be queen (Silas and I her loyal subjects) soaking up all of our attention. And we were all brilliant in those roles. I also knew adopting another friend would keep me tied to my home, my travel shoes restricted.
While everyone with the sweetest intentions told me (both at home and online) that I would love again after Izzy's death, that I'd adopt again, that I'd share my heart and home again with another friend, I nodded and acknowledged their desire to comfort me. But I knew this was not for me, that my commitment to wandering must stay the course, that my dream-choice would mean sacrificing my own desire for companionship, and would render me childless for the first time in almost thirty years.
Agony. Ecstasy. A deep soul loneliness moved in me, and a deep hope as well.
When I went to the shelter on Tuesday afternoon it wasn't to adopt. It was in response to an orphan who looks like a miniature Falcor from the Neverending Story needing some time away from the shelter, and I welcomed the opportunity to be a temporary source of happy refuge. But he pounced into my car and into my life like he was coming home. He jumped onto my couch and perched on the cushions the way Izzy used to. Held my face with his paw while he kissed it, the way Izzy used to. And when I gave him a rawhide, he walked over to the mountain of silk pillows where Izzy used to bury hers, and snuggled it into the same spot. In an attempt to set a healthy night time standard, I made him a nest at the foot of our bed, so I could avoid the " Angi Sandwich" Silas and Izzy used to make every evening–Silas curled on one side of me, Izzy on the other, me in the middle unable to move more than two inches in either direction. The little booger took a flying leap onto my bed and instead of laying in his little crib, shimmied down under the covers and curled into my hip, successfully creating his slice of bread on the Angi Sandwich.
When I woke Wednesday morning he crawled up onto my chest and inched his way toward my face, his feet outstretched long in front of him in playful seduction. When he reached my head he thrust his body against it and wriggled his whole self around it, like an otter twisting and rolling through the shore…he face-surfed me, darting in for a lick of the ear, the nose, the chin. Then he did the same to Silas, his bristle-fur brushing cheeks and neck and forehead 'til Silas said, "I feel like I'm in a car wash."
If this creature felt like a dog who needed help, I might have stood a chance at helping and then releasing him to the next helper. But this being feels familiar. Old. Like we are picking up where we left off, like he's just been waiting his turn on the Angi and Silas carousel, hanging out with some popcorn while Tink, Zeus and Izzy took their rides. And then, bounding into my living room and into my heart, tail full of "YES, my turn, my turn!" he single pawedly diverts my plans.
Seems "A New Era" looks a lot different than I thought it was going to look. It looks like a scraggly black wizard's beard with luck dragon eyebrows.
How will I travel? When will I travel? I have no idea. But travel I will. I am humbled by the weight of familiarity, and the sense of ancient friendship. I feel Izzy so strongly, in ways I've never experienced with my other companions. She seems to be working from the other side to make her death a doorway, but to what and how? I surrender. I don't know. But I feel such love, beaming at me from all sides, from HER, as she brings a divergent path into my travels. I find myself sacrificing all I thought I knew, and submitting to the unknown, at her insistence.
So this is a wide open thing. A new era thing. A scary and vulnerable and overwhelming leap of faith thing.
Every time we choose intuition over logic, we experience these feelings. It's daunting and daring, and requires no little bit of bravery. But it's where the juice is.
And I love juice. I'm a gulping, swilling, thirsty muse. So what else to do?
Arms open, heart full of surrender, I jump.
Free falling into the next chapter of a Neverending Story, I no longer hear God laughing.
It sounds more like a whoop whoop.