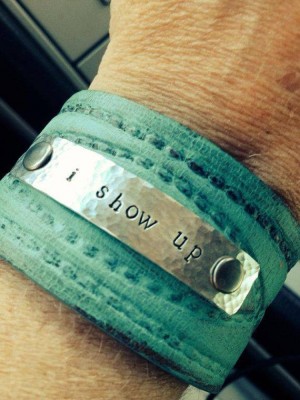 WHO SHOWS UP?
As I explore the meaning of tribe, and what we each seek to gain from the experience of tribal connection, something occurs to me.
While we all ache to be in the presence (physically) of a group we find both stimulating and meaningful, I am sensing the bigger issue here is the desire to be fully seen and embraced (or re-membered, as I like to call it.)
Physical gatherings, when they occur with intention and purpose, provide a direct experience of kindling, because people show up. THEY SHOW UP. To the event, to the gathering, to the soul fire found in the middle of kindred souls.
They show up. Think about that.
It takes time and energy, and often money, to show up physically. There is intention and then action, and it requires some effort on your part to be at the gathering. Then to bring yourself, and be ready and willing to share your heart also requires a certain sacrifice, a kind of gift, that you willingly hold out to the center of the circle.
These are the purest and most profound exchanges I've ever had: when people show up fully to their own fire, and the collective fire of a group of individuals, ready to create, ready to commune, to share in a real, vulnerable, open way.
But in between these events, especially for those of us who live far apart where time and distance and finances play a very real role in keeping us apart, how do we show up? How do we create, and stoke and fan the flames of kindred soul fire sharing?
A confession: In my life, I have a really difficult time showing up regularly. I'm an idea person, whose strength is in conceiving and birthing new concepts and projects. Inspiring others is my juju. Follow Through is a lovely place I very seldom visit. Add to this a real knack for hermitage and a core desire to be solitary, (I prefer to come out of my creation-cave only when I feel inspired ) and what you end up with is a muse whose greatest teachers are books, her greatest counsel a journal, and her best friends are stories and animals. Also? The projects I see to the finish line tend to be the things that absolutely set me on fire, and I am often alone when I birth them.
Yet I dream of a tribe. I adore time with kindred souls and cherish long conversations with soul mates, whether I know them deeply or just met them at a performance or dinner party. The bottom line: no matter how deeply developed my solitary habits are, I crave deep, synergetic sharing.
What's a misfit muse to do?
Show up. That's it. Show up.
And Im challenging you to do it, too.
While I research and plunder all the angles of tribal connection, and how I, as muse and friend, can travel to meet each of you, creating events and meet ups of synergetic sharing, I have this challenge for all of us:
Show up for 30 days. Let's live as a pack for 30 days. We can meet right here, on my FB page, for a daily exchange. I'll start each morning, throwing out a topic, and then I'd like to hear you share from the heart, as if we were all in my living room, sipping tea or fireball whiskey, watching the snow fall over the Taos mountains. If there's something YOU'D like to discuss, send me a private message and I'll write about it. Otherwise I'll just throw out ideas and inspirations, and see what happens.
But for this experiment to work, we must show up, the same way we would in the 'hood. Dinner, drinks, dancing. Whatever the day's gathering looks like, you must show up to experience it tribally, with and among your kindred. This requires time and energy and a certain kind of vulnerability, a willingness to share the gift of your insights, your hopes and fears and bravery. We cannot see you, really see and embrace you, if you are not here.
I'm willing if you are.
Who wants to show up?