August 27 - September 6, 2019
Muse Juice Tour: Scotland Highlands, Islands & Standing Stones
11 Days includes
Highlands * Orkney Islands * Glencoe * Oban * Outer Hebrides Island * Isle of Skye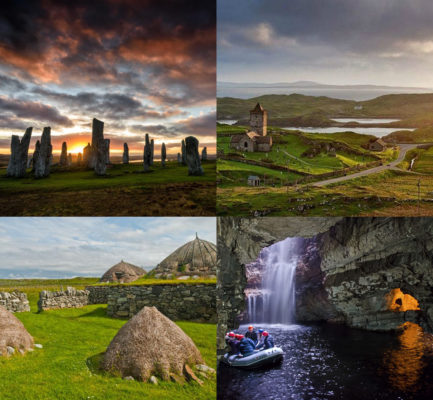 Bagpipes have an eerie effect on you. When one sounds, it's as if something inside you stands up. Something old. Something half-remembered, half-dreamed, but wholly adored. Standing stones are like a magnet, calling you to their center. You don't know whether you want to dance, sit in quiet contemplation, or sing up the moon. But you want to be with them. Heathered moors, sweeping fields of green, and foggy cliffs have always felt like home. Some home you can feel in your soul bones. And men in kilts? Please. YES, PLEASE.
Outlander. Braveheart. DiVinci Code. Even Hogwarts. How many beloved tales have centered around characters – both real and imaginary, but all legendary – in Scotland? The country is rich with stories and drenched in myth. And you are part of that myth. Somehow. Some way. And it calls to you like a lover from another life.
Drench yourself in magic. Join me in Scotland!
We'll visit castles and cathedrals. Roam the glens. We'll explore the fairy pools on the Isle of Skye and visit the Neolithic villages in the northern-most outreaches of Scotland. We'll wander gardens and abbeys and ancient ruins. We'll meditate in the center of standing stones and get lost (and found) inside them. We'll visit Viking settlements and magical goddess caves.Coming along with us is our own driver and guide, a storyteller born and raised in Scotland, full of legends and myths. We'll be tooling along in a comfy small sized van, for our group will be tribal and intimate. No big crowds with hopping on-and-off shenanigans. Our days will be filled with scenery, stories and songs, and our nights will be filled with as much music, dancing and star-gazing as we can stand!
Included in the tour:
10 nights accommodations in hotels, lodges, b-n-bs
Daily transport by van
Personal driver and storyteller
Your own muse
Entrance fees to all castles, historical sites and museums
Ferry rides
Entertainment events
And a handful of surprises - you know how we roll!
We'll be visiting:
Glasgow
Glencoe
Orkneys
Harris
Skye
Glen Orchy
Oban
Callanish
  Join me for the Edinburg Fringe Festival and Bagpipe Military Tattoo 3 Night Pre Package! August 24-26!

For three nights we'll stay and play in the historical Old Town of Edinburgh. We'll walk the Royal Mile, eat at the local pubs, shop like we mean it, but more importantly, we'll PLAY! Edinburge Fringe Festival is in town and it's the party of the year. If you're not familiar with it, google it. The streets are full of performers and shows of all kinds are in theaters all over town: cabaret, comedy, puppets, musicals, concerts. It's good old fashioned zany fun.
We'll also be attending the last night of the Edinburgh military tattoo... a bagpipe spectacle like you've never seen. Complete with fireworks, dinner and drinks in the Edinburgh castle, a private bagpipe show prior to the event, and our own escort to the venue!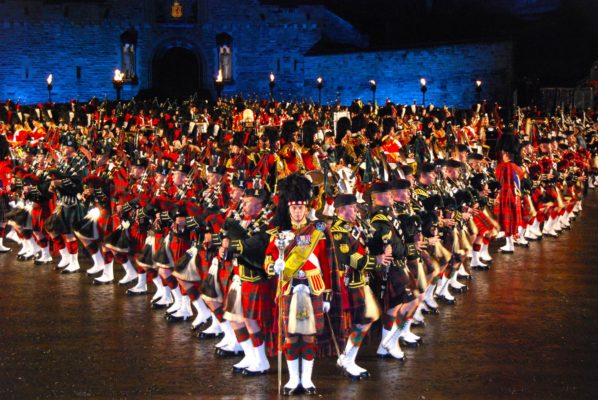 Pre package in Edinburgh includes:
Walking Tour of Edinburgh
3 nights in a killer townhouse lodging in Old Town
Tickets to a Fringe Show
VIP Tickets to Edinburgh Military Tattoo Spectacle
Tickets to dinner and private pre-show event in Edinburgh Castle (where we'll literally bring out the haggis!)
Cocktails at the Castle
Your own muse juice tour guide
Fringe festival show ticket
Harry Potter tour
Join me on the Isle of Iona
3 Night Post Package! September 6-9


Travel back in time to an ancient island where few tourists ever go (at least overnight.) There are very few accommodations on this tiny island, but we have the finest. If you love wild nature magic where there are more rocks and trees than people, where there are no cars, and where the power of the wild feminine beckons over the ocean waves, this place will call to you, siren-like.  
Post Package to Iona includes:
3 nights accommodation in a gorgeous centuries-old lodge
Wild, windswept beaches on an island with no cars
A visit to an ancient abbey
Sacred sites
Ferry rides to and from Oban
Ferry ride to Staffa Cave
A labyrinth to walk.
DATES:
August 30 - September 9, 2019
$500 holds your spot. Refundable until January 1st, 2020 minus a $200 administration fee
11 Day Tour cost $5480
Pre package 3 nights in Edinburgh $1450
Post package 3 nights on Iona $1299
Orkney Islands, Scottish Highlands, Standing Stones
What people say about Muse Juice Tours
You shared Paris with me – Magician-like – in the left hand- a bountiful bouquet, in the right – an ancient mirror – reflecting my own artist-muse soul. I can't thank you enough dear Angi. Everyone should see Paris with her muse."
Julia T., New Mexico
"Euphoria! I am singing! I NEVER sing out loud! My heart is so full I can't keep from singing! You've enriched my life and all the lives around me. You are a "domino" effect!"
Cindy G., Oregon
"You've changed my life. I loved Paris and all its delights, but our conversations were real magic for my real life. I cannot thank you enough."
Cindi L., Texas
Pure magic and the trip of a lifetime. Angi's special talents as a muse-ologist manifested on so many levels throughout the trip. She revels in the wonder that is everywhere and brings you in on the journey! She is a hurricane of energy and an inspiration at every turn. I feel so truly feel so blessed that we "will always have Paris."
Ann P., Rhode Island
"A dream come true. Paris has been filled with treasure for the eyes, glimmering gold, patina, lights, song, laughter and true joy. But the biggest nugget of delicious treasure is the time with you. You've changed my life, my art, my vision."
Jennifer M., California
"Thank you for sharing your Paris with me, a place of intoxicating warmth, whimsy, charm, wonder, tattered beauty and golden opulence. Our conversations opened doorways for my seeking soul. Every step, every experience, each adventure with you has been a precious treasure in my heart palace. You are a gift on so many levels."
Catherine S., New Mexico  

"I had no idea that Angi in Paris would bring me into myself, the self that's free to fly…"
Bill H., Rhode Island
Be the first to know
about all our upcoming Muse Juice Tours!
Sign up for the Muse-Letter