Muse Juice Tours: Holi Festival in India
Color calls to you like a siren.
You've seen those photos of flying HOLI colors online, and they send a thrill through your entire being. You love color, and could curl up in a swirl of magenta or turquoise or marigold. Deep down, you know your soul wears technicolor socks and prances on a dance floor of wild abandon. And you secretly wish you could live in a box of crayons.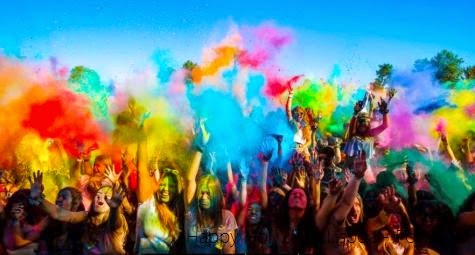 The word "bazaar" sends a shiver down the length of your soul.
You must touch things. Green and purple vegetables piled high at food stalls, blankets embroidered with brightly woven thread, pigments and paints and handmade papers. Rich, bold textiles send your head into a spin and the right sari – draped across your hips, your meditation altar, or your bedroom ceiling can make you swoon with delight.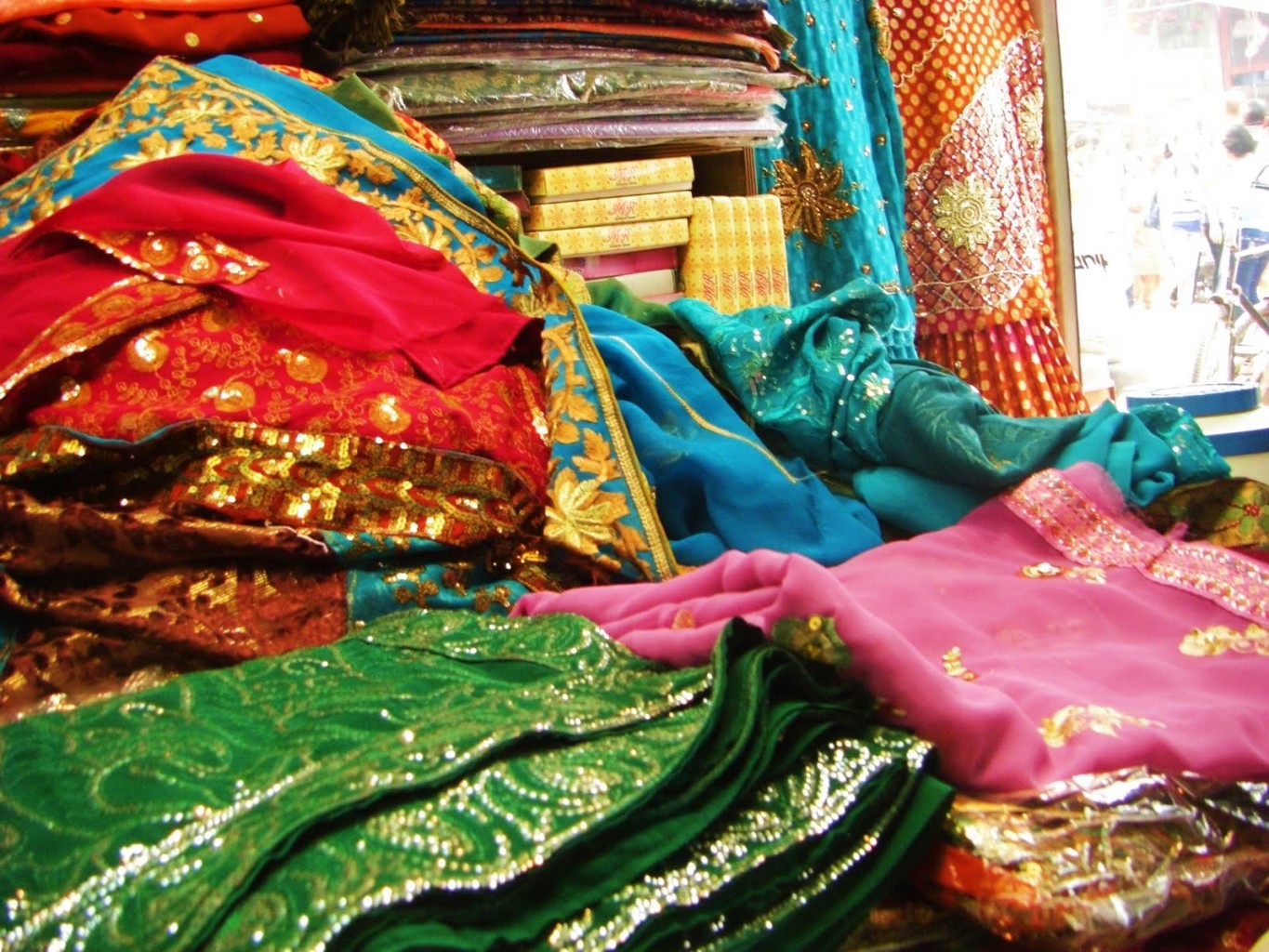 You are a mistress of spices.
Tumeric and saffron and cardamon find their way onto your tongue's palette and there they dance. But cinnamon and chili, salt and sunset, adventure and thrill and romance also swirl inside your mouth. Words like "bliss" and "celebration" are never far away from your lips, even when you cannot live them, you find ways to dream them up. You know that variety is the spice of life and you want to taste it all.
Release your Sorrows and Embrace your Happiness
That is the message behind the HOLI festival each year in India. As a return-of-spring celebration, HOLI is a time to make peace and make friends, to release burdens and embrace joy. In many parts of India HOLI is celebrated with the throwing of wild colors. The streets come alive with music, laughter and good will. Friends decorate each other with color until the world looks like a kindergarten drawing, bright with hope and daring.
It's a terribly good excuse to act like a five year old. And, for a day, to make a life long dream come true and actually LIVE inside a human box of crayons.
.
Come Indulge ALL THINGS HOLI in India.
Feb 13 – March 3, 2018
Because we cherish an intimate tribal gathering, and  in order to give more personal attention to each participant, attendance has been limited to an intentionally small group. 
We will be visiting these cities:
Delhi • Udaipur • Manvar • Rohet • Jodhpur • Jaipur • Agra
All this Goodness is Included on your Muse Juice India Tour!:
Hotel and lodging accommodation for 16 nights

Transportation in air conditioned van each day

Indian tour guide and assistant 24/7

Welcome dinner and Bollywood Spectacle Show

Rickshaw ride in Old Delhi

Folk dancing entertainment at Bagore Ki Haveli, Udaipur

Boat ride down the river in Udaipur

A visit to the exquisite Island Palace on the Lake Pichola

Camel ride in Manvar

Luxury desert overnight camping under the stars 

Jeep ride at Amber Fort in Jaipur

Holi eve bon fire

Holi color festival celebration with a local family

Elephant Safari (feeding, bathing and painting the elephants!) on the outskirts of Jaipur

Cuisine walk, cooking class & a traditional Rajasthani meal with an Indian family

Entrance and tour of the Taj Majal

Transport (air) between Delhi and Udaipur as per the itinerary

Entrance fees to all monuments

Admission to all listed entertainment and adventures

Select meals as per the itinerary 12 breakfasts + 3 lunches + 4 dinners
Below is our itinerary.
Every effort has been made to secure your awesome 17 day adventure with comfort and security. We've included unstructured time so you can relax and absorb. We've allowed for both shared and independent meals, as well as time together and time apart, so everyone can dance to the beat of their own drummer!
Please note: the majority of this trip is physically non-strenuous. The few attractions that demand stairs, steep inclines or mobility challenges will be marked with an (*) asterisk and are optional.
Day 1 : Arrival / Delhi
Late night arrival. Meeting and assistance upon arrival as our representatives welcome you and escort you to your car.
Overnight at Hotel Jaypee Vasant Continental or similar – a 5 * Hotel (Standard Room)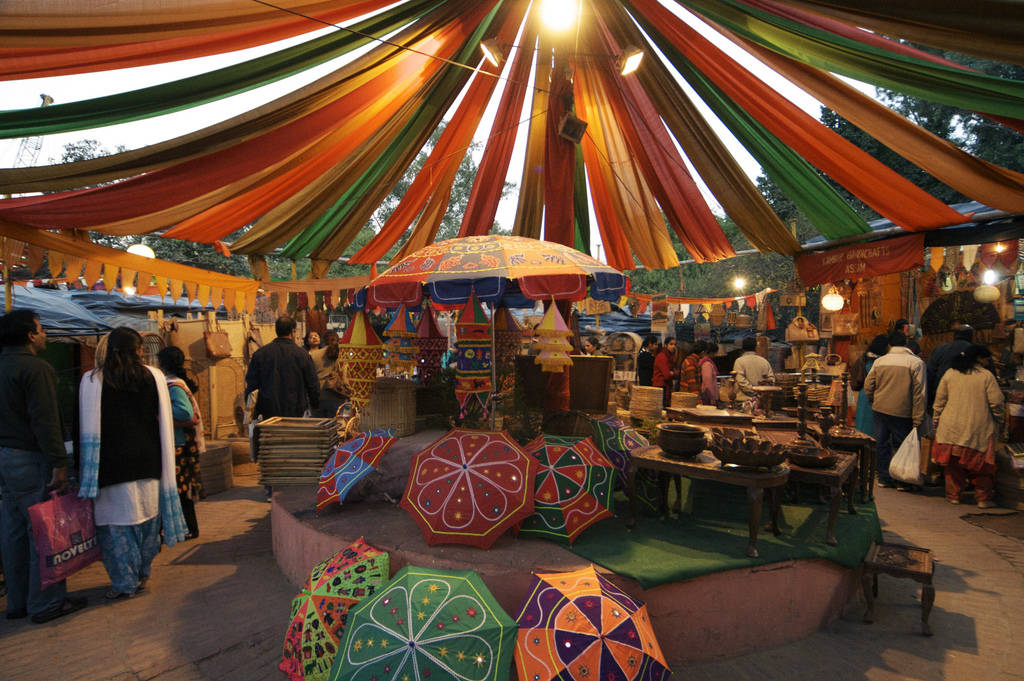 Day 2: Delhi
After breakfast, we proceed on a guided tour of Old Delhi and the fabled area of Chandni Chowk (aptly translates to Moonlight Square) where the throngs of shoppers and vendors meet in the oldest area of Delhi. You will have the choice of visiting the Jamma Mosque or sari shopping with Angi.
The highlight of this tour would be a ride on cycle rickshaws. Now these are 3-wheel cycles with a sofa seat at the back. The Rickshawalla (Rickshaw driver) sits on a small cushion in the front and two passengers on the sofa seat behind. This is a remarkable way to explore and picture the hustle and bustle as well as the color of the narrow winding streets bursting with people and pavement shops selling wares of all description – including a laughing set of dentures. The ride would be accompanied by peals of laughter both from the passengers as well as the onlookers.
Late afternoon we depart for our welcome dinner and Bollywood show.
Overnight at Hotel Jaypee Vasant Continental – a 5 * Hotel (Standard Room) (Breakfast included)
Day 3: Delhi / Udaipur 
Early morning, transfer to the airport to board your flight to Udaipur.
Welcome to Udaipur, the famed "City of sunrise". Founded in 1567 by Maharana Udai Singh, from the lineage of the legendary Sisodias of Mewar – the decedents of the sun God. A city where the sun truly never set, where tradition and a strict code of heroism were happily united with a love of fine living. A city that has come to be an oasis of romance in the warrior state of Rajasthan.
Meeting & assistance upon arrival in Udaipur and transfer to Kankarwa Haveli. Breakfast at hotel.
Afternoon, we enjoy a boat cruise on the serene and beautiful Lake Pichola. The island palace on the Lake called Jagmandir Palace is quite fascinating. The Palace provided inspirations and ideas to the builder of the Taj Mahal. The banks of the lake provide interesting glimpses of the daily bathing and the laundry that takes place here. Looking across the lake, with the city and its great palace rising up behind the island palace, is a scene of rare beauty.

Live Entertainment In Traditional Setting: – Rajasthan is the land of folk performances where dance and melody go hand in hand. This evening, we have an opportunity to witness both in a traditional setting as we reach Bagore ki Haveli, an ancient mansion built in traditional and splendid architectural style boasting of delicate carved work. The interiors of the Haveli (traditional mansion) are embellished with intricate and fine mirror work. We will also have an opportunity to stroll and explore the period feel of the various rooms in this charming building. In the evening, the Haveli lightens and is beautifully lit up as it converts into an ethnic stage for an enjoyable performance of traditional dance and music of Rajasthan. The Haveli appears as a shinning jewel when bathed under the glowing lights at night. The pleasurable performance of Rajasthani traditional dance and music in the moody surroundings of the Haveli that offer enjoyable viewing of the tranquil lake Pichola is a very romantic as well as a soothing experience.
Overnight at Kankarwa Haveli (Deluxe Suite) (Meals on your own)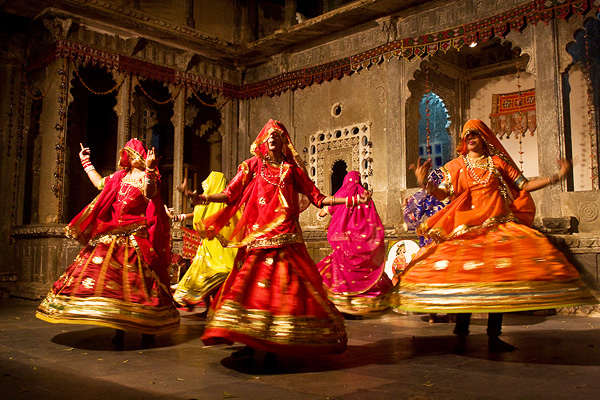 Day 4: Udaipur
After breakfast, we proceed on a tour of this "Lake City". Udaipur is a cool oasis in the dry heart of Rajasthan. It is probably the most romantic city in a state where every city has some romantic or exotic tale to tell. The huge city palace towering over the Lake Pichola is the largest palace complex in Rajasthan. Though it is a conglomeration of buildings built by successive rulers, it manages to retain a surprising uniformity of design and affords very fine view of the lake and the city from the upper terraces. The Jagadish temple next to the city palace enshrines a black stone image of Lord Vishnu and his vehicle- a mighty bird called garuda – in a brass image. The temple is a very fine example of Indo-Aryan Art.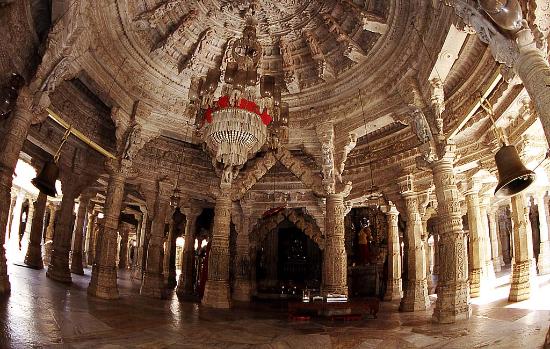 This afternoon we explore the bustling bylanes of Udaipur, which have artisans practicing their traditional crafts handed down to them by their elders. Khari printers do decorative floral patterns in gold and silver on plain or printed fabric. Block printers print various designs and patterns in different colours with the help of wooden blocks. You'll also find artisans carving furniture, making puppets and traditional wooden toys. Along with engraving and embossing on brass, silver, jewellery, copper and even pottery, Meenakari is a specialty of this region. Udaipur also specializes in stone carving, especially in marble and sandstone, with artisans working hard at chiseling their finest filigree work. Colour as usual plays an important role in the life of Udaipur as in Rajasthan. It is wonderfully evident in ghagharas (long flowing skirts), cholis (blouses), and odhnis (long scarves) of the women as well as the turbans of the men.
Overnight at Kankarwa Haveli (Deluxe Suite) (Breakfast included)
Day 5: Udaipur / Ranakpur / Rohet (240 Kms) (05 Hrs Drive)
This morning we drive to Rohet en route we will visit Ranakpur.
The Ranakpur Jain Temple was built during the reign of the liberal and gifted monarch Rana Kumbha in the 15th century. The basement is of 48, 000 sq. feet area that covers the whole complex. There are four subsidiary shrines, twenty-four pillared halls and eligibly domes supported by over four hundred columns. The total number of columns is 1,444 all of which are intricately carved with no two being alike. The artistically carved nymphs playing the flute in various dance postures at a height of 45 feet are an engrossing sight. In the assembly hall, there are two big bells weighing 108 kg whose sound echoes in the entire complex. The main temple is of Chaumukh or four-faces temple dedicated to Adinath
Following the tour of Ranakpur we continue our drive to Rohet. Upon arrival check into Rohetgarh.
At Rohet, one is transported in to a world of the past, a world of honour and of chivalry, of glory and of pride; a world of vibrant colours and spectacular magnificence. Past centuries come to life at the historic boundary walls of Rohet- the 16th century fortified deserted home of a Rajput clan. Within the precincts of these time weathered walls is our hotel, the impressive Rohetgarh Fort- a bastion of proud Rajput traditions bathed in the ambience of unmistakable Rajasthani culture where one can, even today experience the famed warm and courteous Rajput hospitality. Frescoes on the tall gateway, brightly painted in the traditional style, using traditional motifs and colour schemes herald your entry to this charmed world the bygone era. The gateway leads to a compound where a profusion of flowers frame the archways in welcome. The portico is a warm and informal place decorated with the artifacts and trophies of many years. Exquisitely carved furniture, delicate hand block prints, original paintings and photographs decorate your rooms, which though redolent with the romance of a bygone era, provide all the modern amenities. Antique hunting riffles, shields & spearheads, daggers and original paintings form the backdrop of the dinning room. The swimming pool here is in beautiful settings and is an oasis in a dessert.
The food at Rohetgarh is special; each recipe is both traditional and typical, handed down the generations and jealously guarded to retain its pristine flavours. You savour only the very best of Rajasthani cuisine's, food favoured by the Royalty. The 16th century descendants of the Rathore ruling family still live here and host the guests. The members of the Royal family interact with the guests and interesting stories and anecdotes are narrated.
We would also explore Rohet, which is a fascinating small feudal town, which seems to be straight out of the Arabian Nights. There is no proper road here – only one main dust trail. On either side are typical thatched houses and shops of all kinds – colourful bangles, silver jewellery, potters, fruit vendors on carts, dress shops, tailors etc.
As evening descends upon our hotel, the darkness of the night is lit up by the flickering flames of fire around which the rhythmic movements of the folk dancers assumes shape in brilliant colours; truly an electrifying experience.
Overnight at Rohetgarh – Heritage Property (Super Deluxe Room) (Breakfast included)
Day 6: Rohet / Manvar (105 Kms) (2 ½ Hrs Drive)
Morning we enjoy a jeep ride to visit the heart of Rajasthan villages where traditions centuries old still permeate life styles. One can witness the 'opium ceremony' – a ritual by which guests are welcomed. Gaily attired men and women carry on their chores and one can catch a glimpse of their norms and customs. The smoothened mud floors of the village huts remind one of the simple and traditional living here.
Later, we will drive to Manvar. Upon arrival, check into Manvar Camp, located right in the heart of the Great Indian Thar Desert. It is an unprecedented destination offering a rare opportunity to enjoy Rajasthan's desert life, culture, wildlife & beauty. The place provides every comfort the modern traveler could wish for; luxurious accommodation, mouth watering cuisine & an incredible Rajasthani hospitality. Built in the style of a traditional desert village, the resort complex is spread over 5 acres. Constructed using local materials & techniques.
Manvar offer great outdoor adventure and a taste of the Thar Desert. We will enjoy a camel safari to the Mustard and Red Chili fields in the middle of the desert. We would also witness traditional desert villages and lifestyles unchanged for centuries
Overnight at Manvar Camp (Standard Tent) (Breakfast, Lunch & Dinner included)

Day 7: Manvar / Jodhpur (75 Kms) (02 ½ Hrs Drive)
Early morning excursion to Khichan. The tiny village of Khichan has assumed a popular appeal with the bird watching community.  The local people offer large amounts of grain to birds every morning and this has attracted large numbers of Demoiselle Cranes to usurp this food supply.  It is great spectacle to watch these Cranes swoop down to a especially created rectangular enclosure, for their early breakfast.  The feeding session lasts for an hour and a half, one group takes off as another settles.  Their flight across the backdrop of the traditional mansions of the village, presents wonderful opportunities for photography, as do the feeding birds on the ground.   We are very close by and can be offered vantage positions over the terraces, by the local people who feel proud of their visitors.
Later we will drive to Jodhpur. Upon arrival check into your hotel Ratan Vilas.
Evening, we would ride horse carriages to the Clock Tower Bazaar. This is one of India's largest and most colourful wholesale markets especially with respect to clothes, fabrics, spices, vegetables etc. It is a fantastic experience to walk through the place observing and photographing this incredible spectacle of vibrant lifestyles and incredible colours.
Overnight at Ratan Vilas – a Heritage Property (Superior Room) (Breakfast included)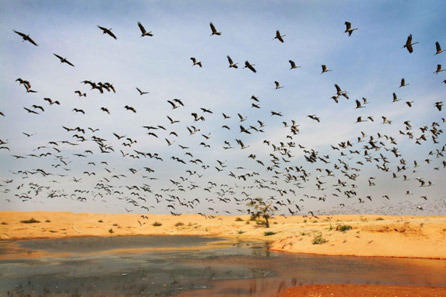 Day 8: Jodhpur
After a leisurely breakfast, proceed on a guided tour of Jodhpur. Our tour includes the massive fort. In olden days this must have been impregnable since its rocky base is scraped straight down making it nearly impossible to ascend. Once inside, royal palaces abound with fascinating history and priceless jewels, on to the armoury and Jaswant Tara – the Royal Crematorium.
Rest of the day is at leisure for independent activities. Jodhpur is a veritable shopper's paradise with entire streets and localities in the walled city devoted to single commodities. The city is famous for bandhani and lahariya, block printed textiles, silver jewellery, antique furniture, wood and metal handicrafts. Carpets and durries can be found on the Umaid Bhawan Palace road. Jodhpur is home to many talented and skilled craftsmen like textile dyers, metal engravers and die-makers and probably the last of the tailors of the classic Jodhpur breeches
Overnight at Ratan Vilas – a Heritage Property (Superior Room) (Breakfast included)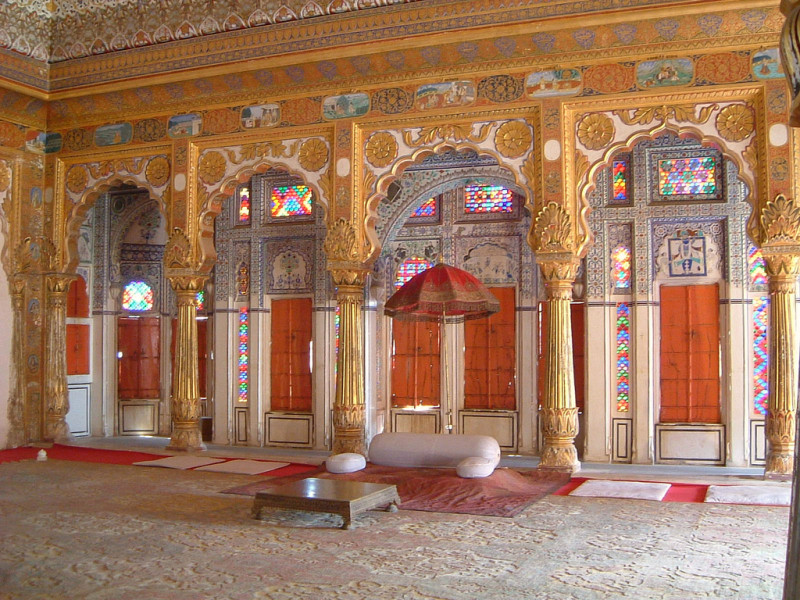 Day 9: Jodhpur
FREE DAY in Jodhpur. Take it at your leisure. Have your own Indian outfit tailored for you. Take a walk through the bazaar. Amble through the throngs of people. Enjoy!
Overnight at Ratan Vilas – a Heritage Property (Superior Room) (Breakfast included)
Day 10: Jodhpur / Jaipur (330 Kms) (07 Hrs Drive)
After breakfast, we will drive to Jaipur. Upon arrival in Jaipur, check into Royal Heritage Haveli.
Evening, proceed to explore the roots of Rajasthani cooking. We begin by visiting the vegetable and spice markets which lie untouched by modern "departmentalism". You buy the ingredients yourself.  This market walk merges into an interactive cooking session with a respected family of the erstwhile Jaipur state and ends with a meal with them. Over the interaction session, you get introduced with the ingredients used for cooking and slowly learn to cook Rajasthani cuisine the traditional way. Over dinner you get an opportunity to listen to the tales narrated by your host. They would bring to you an insight into the people and lifestyles of a glorious bygone era. You will get to know the traditions, customs and beliefs of the native. The experience will help you get under the skin of the city and bring you a unique insight into Rajasthani cuisine and the traditions that went into their making. We hope to bring to you a fulfilling as well as an appetizing gourmet experience.
We will:

Learn how to cook Rajasthani cuisine the traditional way.
Get familiar with some of the local flavors of India.
Sample some great local food from the stalls around the bazaar.
Involve into an interactive cooking session with a noble family of the erstwhile Jaipur state as well as gain an opportunity to dine with them.
Overnight at ITC Jaipur or similar (Standard Room) (Breakfast & Dinner included)
Day 11: Jaipur
Morning, we visit Amber Fort, the former capital of the royal Jaipurs. Few fail to be moved by the dramatic Rajput grandeur of this hilltop fortress-palace 11 km north of Jaipur. Set on the dry wrinkled Aravali Hills, and surrounded by fortified battlements, the palace straddles two sepia-hued tundra hills overlooking Maota Lake, and its sprawling crenellated walls lattice the surrounding hills.
We will ride up to this hilltop palace on a caparisoned, painted elephant, passing through the ancient main gate where Maharajas of Jaipur have entered for four hundred years. Our guide will elaborate on the history of this architectural masterpiece with its mirror-studded alcoves, dazzling mosaics and water-cooled swings that delight today's visitors as they did their former royal residents.
We shall visit the Hawa Mahal or Palace of the Winds, a five-storied structure of pink sandstone with semi-Octagonal and delicately honeycombed windows overlooking the main street of the old city. It was built in 1799 so that veiled royal women could peer down unseen by the world through its 593 stone screens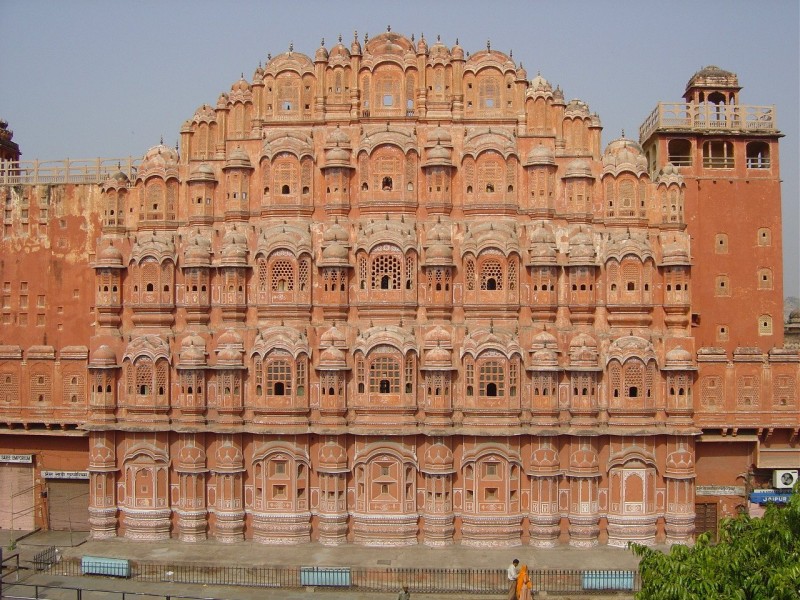 In the afternoon we drive to a village in the outskirts of Jaipur. This village is primarily inhabited by mahouts (elephant riders) and their elephants. Each elephant lives with its owners family, and occupies the largest room in the individual houses. The mutual existence is done without compromising, the happiness of the elephant and its host family. It is here we get a chance to get up close and personal with the gentle giant.
Upon arrival we are greeted with welcome beverages. We are shown around the village and then introduced to the elephants. We learn how to get comfortable around the enormous but amiable animal and establish with them a relationship based on trust. Also, we are taught some basic aspects of elephant communication which is very helpful during our stay here. Following the familiarization process we get time to feed the jumbo. While feeding we also get to know about their eating habits and favorite foods. Once the tusker is well fed we embark upon a bare back elephant ride around the village. This is a one of a kind opportunity to learn how to mount the jumbo without any stools or stairs, and, learn different commands to deal with them. After this unique experience we get the chance to arouse the artistic instincts within us and try our hand at the Indian tradition of painting elephants with plant based organic dyes. Following this we return back to our hotel with a greater understanding of the species as well as an appreciation for the efforts in creating a serene and humane habitat for them.
Overnight at ITC Jaipur (Standard Room) (Breakfast and Lunch included)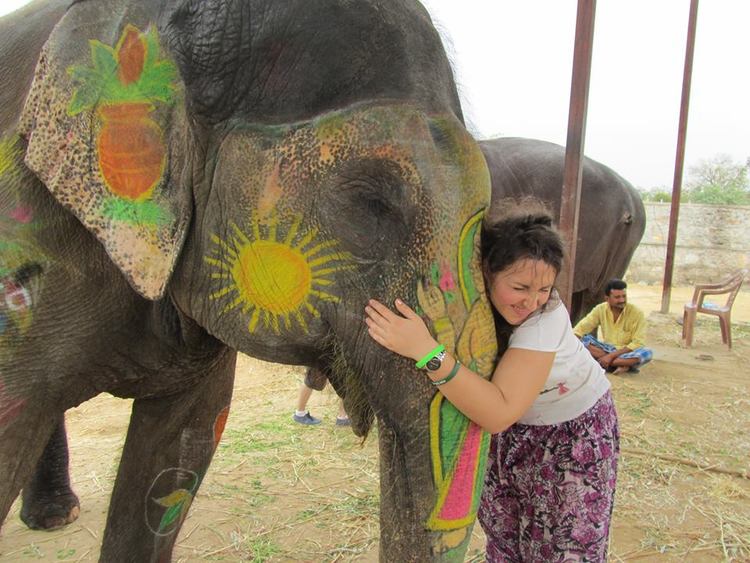 Day 12: Jaipur
After breakfast, we proceed on a (optional) tour Of the City Palace & Observatory. The City Palace in the heart of the old city is a blend of Rajasthani and Mughal architecture. The fortified wall has seven gates and was built for protection from invading armies and animals that lived in jungles, which surrounded the wall that time.
Next, we visit the Solar Observatory – an astronomical treasure house, with solar device that give accurate predictions till date.
After lunch, shop! Jaipur is a paradise for the lovers of art and craft. The tour is so designed that in most places you visit there would be an opportunity for you to shop for the local crafts or specialty. Jaipur is amazing for jewelry, especially stone setting. Also famous are the traditional fabrics and carpets made from wool or from silk. Jaipur is famous the world over for her fabrics – especially the ones that incorporate traditional techniques of block printing as well as tie and dye. We would witness block printing, tie and dye as well as the weaving of woolen carpets. Let the tailor come and 'size you up'. He will have a made to order outfit delivered to you at your hotel in 24 – 36 hours !
Close to sunset, we take part in a local street celebration and bonfire, celebrating Holi eve.
Overnight at ITC (Standard Room) (Breakfast included)
Day 13: Jaipur / Shahpura Haveli / Jaipur (70 Kms) (01 ½ Hrs Drive – One Way)
This morning we drive to the town of Shahpura, just outside of Jaipur. Here we visit the Shahpura Haveli, which is the mansion house of the rulers of the town of Shahpura. Here we change into the traditional Indian clothing known as kurta-Payajama and take part in the celebration of the festival of colours – Holi using herbal colours. We also get to witness the traditional Indian Folk dance with "Chang" (beating of drums). Following this we have lunch accompanied with a bottle of beer. Late afternoon, drive back to our hotel in Jaipur.
Overnight at ITC Jaipur or similar (Standard Room) (Breakfast & Lunch included)
Day 14: Jaipur / Fatehpur Sikri / Agra (245 Kms) (06 Hrs Drive)
After breakfast, we drive to Agra. Upon arrival in Agra, check into our hotel.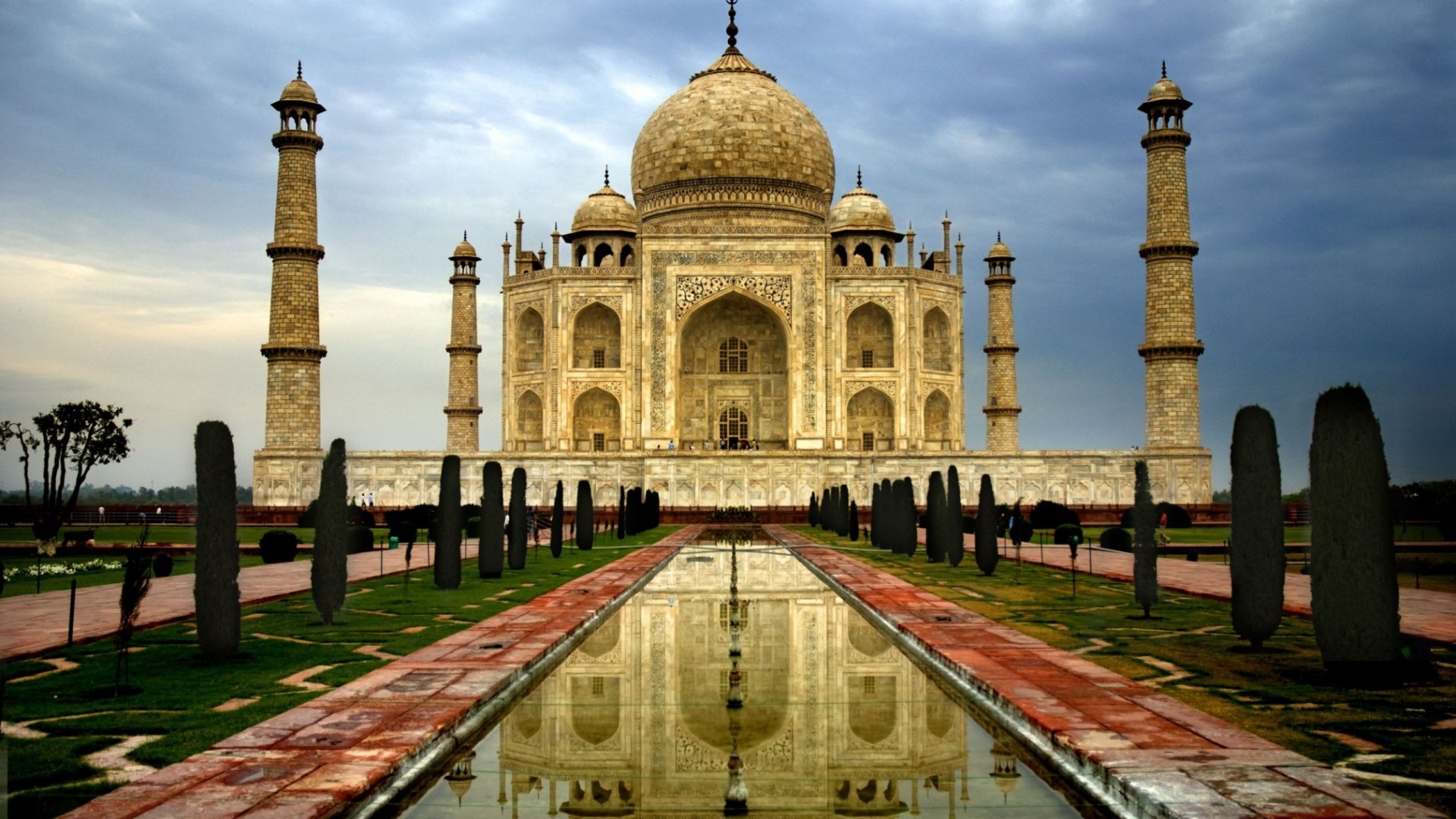 Agra is the city of the Taj Mahal, perhaps the most photographed monument in the world. However, there is a degree of enigma about the Taj. Once you hear about a building so much and once you see so many pictures of a building your expectations are real high; and this is the enigma about the Taj Mahal. No matter how many pictures you have seen or no matter how high your expectations are the Taj never lets you down – the unparalleled glory and beauty of the building surpasses beyond all human imaginations. At sun set we visit the Taj Mahal to witness this spectacular monument built for love. Besides perfect symmetry in every aspect of its construction, the inlay work of semi precious stones into marble in pietra dura style is absolutely remarkable.
Overnight at Hotel Four Points By Sheraton (Superior Taj Facing Room) (Breakfast included)
Day 15: Agra / Delhi (205 Kms) (04 Hrs Drive)
After breakfast, we ride to the massive Agra Fort. The elegant buildings inside reflect an interesting synthesis of Hindu and Central Asian architectural styles. Built by Emperor Akbar, the maze of the courtyards, mosques & private chambers of the fort echo the story of the Mughal Empire. Later, we will drive to Delhi along one of the India's finest freeways
Later, we will drive to Delhi along one of the India's finest freeways.
Upon arrival in Delhi, check into Hotel Jaypee Vasant Continental
Overnight at Hotel Jaypee Vasant Continental or similar–a 5* Hotel (Standard Room) (Breakfast included)
Day 16: Delhi
After breakfast, we visit Dilli Haat, a project conceived with the basic idea of providing encouragement and exposure to needy artisans and craftsmen all over the country who often spend their lives within the confines of their own village and town. The success of the project lied in freeing the craftsman and the artisan from the stranglehold of the middlemen and bringing them into direct contact with buyers both within the country and outside. Dilli Haat offers the visitor not only the arts and handicrafts of the country at one place, but also the cuisine and performing arts from different parts of the country. While developing the concept, it was kept in mind that when a 'Haat' comes to the city, it has to adjust to urban contemporary needs while retaining the cultural ambience familiar to rural crafts people.
The afternoon is at your leisure. Take a nap. Get a massage. Or take an optional Bollywood Dance lesson. (It's SO fun when the whole group joins in!)
Tonight we enjoy the farewell dinner at a local fun-house in Delhi. This evening bestows upon you the opportunity to experience Delhi's unique and much sought after culinary adventure.
Overnight at Hotel Jaypee Vasant Continental or similar–a 5* Hotel (Standard Room) (B & D)
Day 17: Delhi / Departure
Transfer to the Train station or International airport to board your onward train or flight.
Since most flights leave at night, you can use the day to plan an excursion of your own, or take time to rest.
Though the check out time is 12 noon, every effort would be made to retain rooms till as late as possible without additional charges.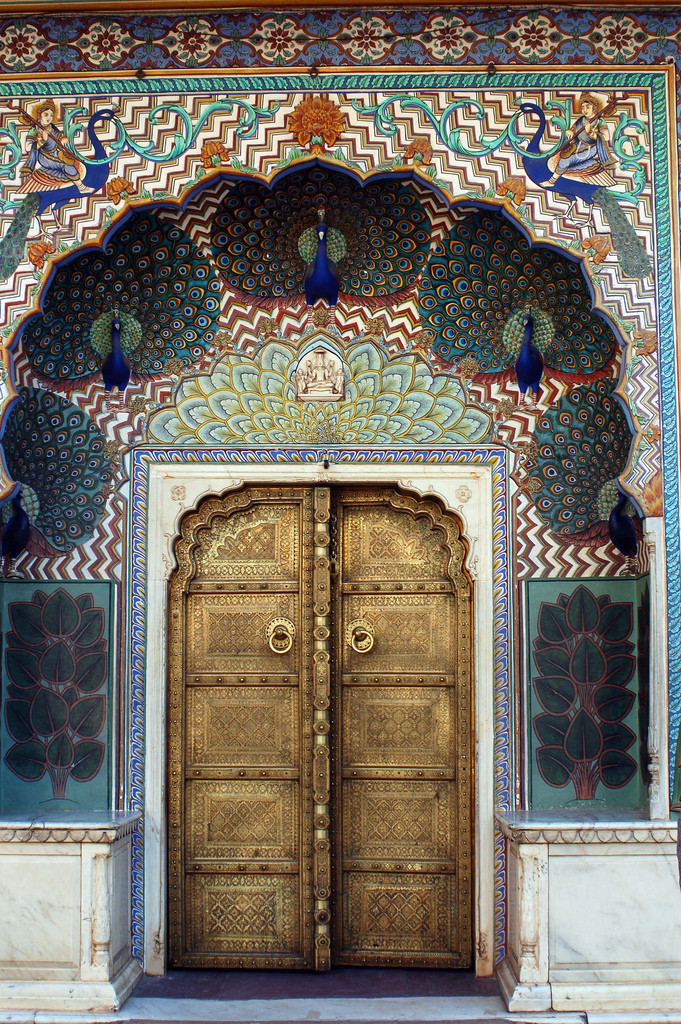 Cost of 17 day tour with ALL INCLUSIONS LISTED ABOVE
(Lodging, Entrance fees, Transport, Listed meals, Escort and all entertainment):
$5444 based on double occupancy
Single occupancy is higher. Contact us for details and roommate possibilities.
Secure your spot!
To preserve that "family" feeling and to protect the enjoyment of your adventure, this tour is intentionally limited to a small, intimate pack of bohemian travelers. Reserve your place with the elephants now!
If you're interested in joining our holi revelry, contact me for more details.
One Time Payment
Register for 1 payment of $5444
Installment Plan
Register for 5 monthly payments of $1088.80
Your one time payment or your 5 month installment payment includes Full Registration to MUSE JUICE TOUR :INDIA 2017, nights of accommodation and all activities and meals listed. It does not include international airfare to/from Delhi. Non Refundable. Transferable, with permission, until December 1, 2017. See our FAQ sheet for questions and other details.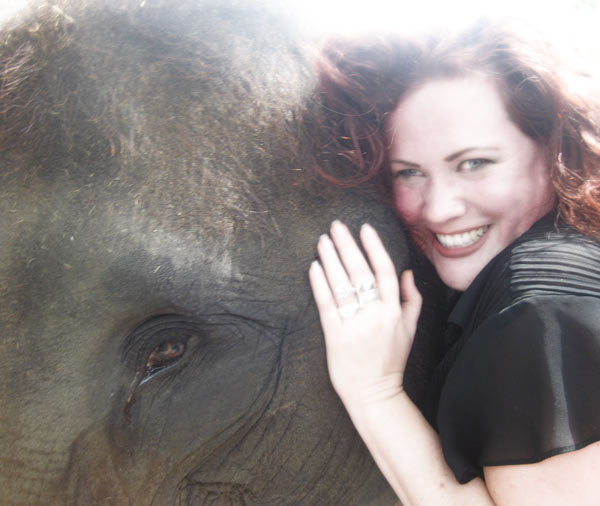 I cannot wait to share this time with you. Prepare yourself for the trip of a lifetime, as you will return home a changed person, ignited, enchanted, expanded. Until then, I remain yours in great anticipation.
Brightly woven,
Angi
Your muse-guide, shenanigans instigator and human crayon